The Legend Well Live On!

Presenting, my '84 Z-28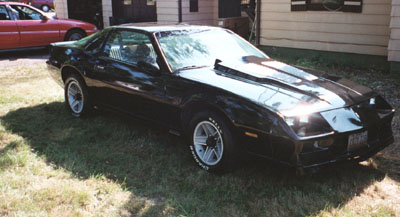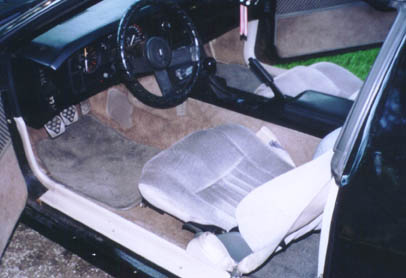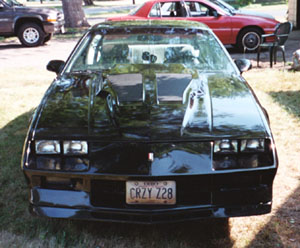 In August of 2002, my Camaro has not been driven due to a spun bearing. 6/27/04 (almost 2 years later) marked the beginning of a large project to make my Z28 road worthy again! Visit Project Rebirth!

See March of 2010 - Strut Tower Recovery in the Project Rebirth section!

Site last updated on 4/20/2010.
I'm dedicating this site to my pride and joy, my sweet '84 Z-28. You can count on stopping by and once in a while seeing a neat new mini-restore project (usually after it's been completed). In the short time that I've owned this car, it's been through Hell and back to tell the tale. The car and I were involved in an accident that should've totalled it back in January of '99 (that was a MAJOR restore project).
Big thing to learn quick about me. I'm not a motor head (I learn as I come by information). By hobby and career, I'm a computer tech, not a mechanic. I drive a car (such as my Z-28) because I like how it looks and how it feels to drive. I'm a hardcore 3rd gen F-body fan (hey, that's why I had my beauty repaired and not junked). I believe a good 3rd Gen F-body is MORE then a nice piece of transportation. For a true 3rd Gen F-body fan, it's a way of life and pride of owning one. As Pontiac says "It's Driving Excitement"!!
Here's some quick info on my 3rd Gen:
Year - 1984
Engine - 305 5.0 Liter H.O. (L69 Engnine)
Transmission - 5 Speed Manual (is there any other for a Sports Car)
Power Door Locks, Windows and Trunk Release
Air Conditioning (currently not functional)
Cruise Control (currently not functional)
T-Tops (who needs air conditioning when you have these)
Current Mileage - 138,000 (as of 10-29-2001)

My Modifications:
Turbo Daytona Fiberglass Hood
K&N Air Filter and BOSCH Oil Filter installed
'87 Firebird Trans Am Seats
IROC Grid-Style Tail Lights
Stereo - SONY in-dash CD player/control and SONY 10-Disc CD Changer
Speakers - Kenwood 2-way 4x6's in the fronts and Kenwood 3-way 6x9's in the rears
Custom Stainless Steel Exhaust (installed by Nelson's Car Care Dianostics - StainlessExhaust.com)

Future Modifications (during restoration):
UMI Rear Control Arms
UMI Sub-Frame Connectors
PST PolyGraphite Front End Kit
Aluminum Drive Shaft
Clear Side Marker Lights
140 MPH Speedometer
Posi Trac Rear End
Greaseable Door Hinge-Pins


I bought my Camaro for $1,500 in March of '98 (my senior year of high school). But the funny part is, I bought my Z-28 from the first police officer who ever wrote me a ticket (and no, it wasn't a speeding ticket). I admit it, this car has become my life's obession. 3rd Gen F-bodies were my dream cars and now I own one. Currently, I am into re-detailing, touch up work and appearance modifications to my car (I enjoy that kind of work). Even though I just had a body shop repair the quarter pannel and repaint the whole car, their are some areas not done to my satisfaction. Once I have a garage of my own, I plan on eventually stripping it done myself and once again hitting it with some fresh paint . But that's not for a long time down the road.

My Z-28's History Page and Accident Page



More about the '84 Camaro (Pics and Projects)



3rd Gen Parts Wanted


3rd Gen (and other) Parts for Sale



To learn more about the driver (me), go to my Bio page.



My '04 Chevy Monte Carlo SS



'04 Pontiac Grand Am GT SC/T (coming soon)


F-Body/W-Body Road Trips

LAN Parties and Computer Related Projects

Check out my Links Page! 3rd Gen F-body sites and other good and useful sites to hit!

Feel Free to E-mail me, questions, comments, or just pics of your ride!


Former Rides:


'02 Pontiac Grand Am GT - 8-1-2012


'02 Pontiac Grand Am GT - Wrecked 2-5-2014


'94 Pontiac Grand Am SE - 2-14-2003 - Sold 10-19-2012


'93 Pontiac Grand Am SE - 5-31-2001


'93 Pontiac Grand Am SE - Wrecked 2-11-2003

Former rides '84 and '93 Buick Century

'93 Buick Century - Wrecked 5-6-2001
And now I leave you with:
FORD Acronyms:
Factory Order Road Disaster
Follows Other Real Drivers
Fails On Race Day
Found On Road Dead
Fix Or Repair Daily
Forced Off Road Daily
Camaro - Can A Mustang Approach Real Opposition!!
Click here to see my eBay listings!!
Add your website to over 30 search engines here!