Appearance Upgrade - Turbo Daytona Hood

Page 1 of 2
If any of you follow my site (or my insanity), then there is no doubt you know I've wanted a Turbo Daytona hood for my Camaro for a long time. I found out about this hood when I was shopping for parts to fix my Camaro after I spun it into a telephone pole years ago (roughly 3 years from when these photos were taken). After waiting a couple of years to find what shops had this hood and how much it was going to set me back, I order it. I ordered it from American Sports Car Design.
It arrived early in May of 2001. It was sent to my father's house. He should have charged admission to the driveway! That day, almost all my friends heard about it and stopped by to see it while I was at my dad's looking at it myself. In anycase, ASCD gave me 15 days from receiving it to verify that it properly fit. So the Friday we received it, my father, step brother Jesse, my friend Chris Mosack and I did the test fit. We unbolted the original hood and lined this one up in it's place. I think it looks sharp. I have the hood louvers for it as well. After the test fit, we put my stock hood back on it for now.
At this point, I need to get it prepped for paint.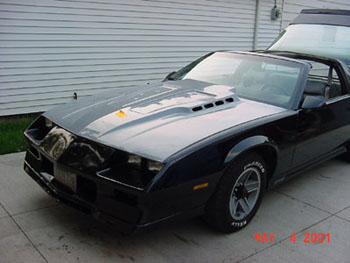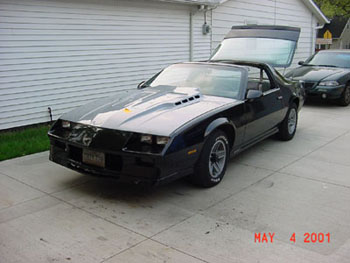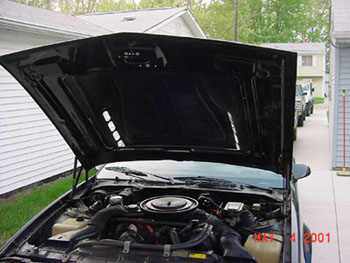 This project was put on an extended hold due to the accident that destroyed my '93 Buick Century days after these fitting pictures were taken.
Click >>Here<< to see the newly finished Turbo Daytona Hood!!