Appearance Upgrade - Turbo Daytona Hood

Page 2 of 2
September 11th, 2001 is now known as a horrible date in history (with the terrorist attack on the World Trade Center and the Pentagon). Yet my father and I managed to unglue ourselves from the television to begin painting the Turbo Daytona Hood.
Since my dad tend to enjoy small projects like this he did a great deal of this (and a heck of a job he did too). I helped him in block sanding the hood to prep it for paint. He then managed to spray 1 base coat of black and 4 coats of clear coating. The next couple of days he spent with wet sanding and also polishing it with rubbing compound. The end result, a true piece of art. On October 13th, 2001, it was finally put on! I proudly look over the cowl of this hood any time I drive it, this was one of my dreams with this car come true (took 3 years to see this to completion).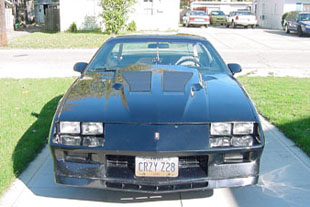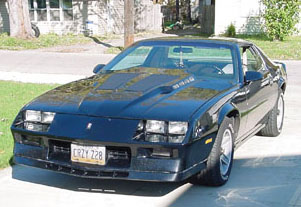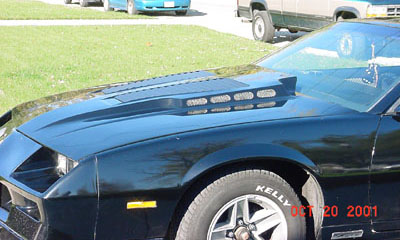 At this point, I want to extend a special thank you to the primary members of the Internet F-Body Community for there help on this (and many other projects). These are the people that have answered questions focusing around this hood project (and some of my other projects past):
Dave Staubli - http://members.aol.com/iroczdave/pubpage.html
Paul Lodge - http://www.camarosource.ca/
John Agli - http://pages.prodigy.net/berlinetta/home.htm
And of course, a thanks to my father and Mike Huelsman, as these two have kept this dream alive and have always offer me help on these projects. With out them, NONE of these Camaro projects would have been possible.
UPDATE 8/6/05 - With all the changes my Camaro has been making, there are almost NO pictures of the original hood. So looking at this Datona Hood Project is almost pointless with out seeing the original factory steel hood. So here it is: