'93 Buick Century - Wrecked

See what this car was before the wreck at '84 and '93 Buick Century page!
To my dismay and (the opening of a royal pain in the ass), my '93 Buick Century met it's end, May 6th 2001. All the pictures below were taken a day after the accident, at the impound lot that was holding it. I was going there only to recover my personal belongings. Everyone that arrived at the scene of accident was stunned at what hit me (people that arrived thought that a truck must've hit me and gotten away). To everyone's suprise, all this damage was caused by a small '88 Honda (Accord or Civic I think).
The only thing that saved me from driving my loved Z-28 was it had a bad transmission mount (the shift floated up and down as I drove). First time I was ever glad that something on one of my cars was broken. This $5 - $10 easy to change part saved my Z from an ugly mess. I was on my way to the house of my friend Chris Mosack. Him and I were planning on washing and waxing his girlfriend's car and my Buick. I was waiting for traffic to clear so I could make a left hand turn on to his street. Right as it cleared, I heard the screaching tires, looked in my rear view and had enough time to say "oh sh*t!". According to the report the local police made, they believe the person at fault hit me doing every bit of 45MPH (and the area is posted as a 35MPH zone). I still had my foot locked on the brake at the time his Honda pounded me.
When I was hit, my glasses were found in the backseat, and the drawer for the ashtray flew open and the tray itself shot out and landed on the passenger seat after the impact (I kept coins in there and they were all over the place). As you can see nothing behind the front fenders line up right. The wheel well crushed my CD changer. Luckily, my father was able to safely extract the cartridge from it (none of the CDs were harmed, it's a minor, but good nonetheless). The floor pan is all buckled (none of the seats line up correctly, the front seats rub against eachother with any adjustments made). The was punctured and the rear tires destroyed. If I was not wearing my seatbelt, I guarentee, I would either have been eating my steering wheel or hitting the windshield. Luckily, I was able to walk out of the car after the accident.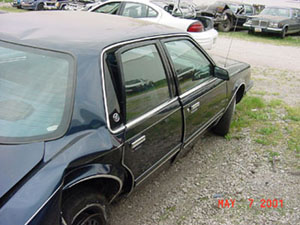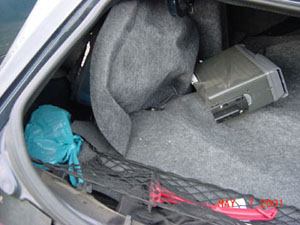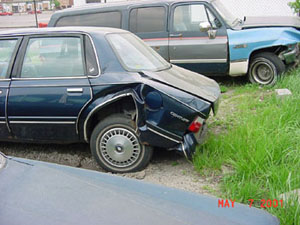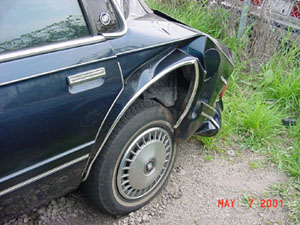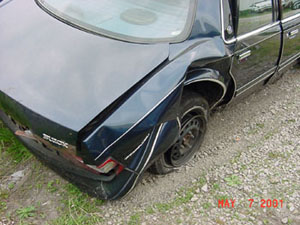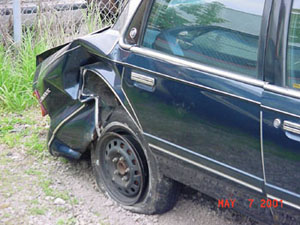 A little blurb about auto insurance. Both myself and the person at fault have the same insurance carrier (the AutoPro people, if ya catch my drift). Due to this, it made my dealings increasingly more difficult. For those using the "AutoPro" people as there carrier, beware, you might just get what you pay for. Due to my poor experience with them, I WILL be changing my carrier. Inbrief, here are the problems I have with my dealings with this agency:
- After I phoned in the claim and they had an agent working on it, he sent some one to my location that week. This guy had no idea what happened or that I was the vistim. He also said that if I found a comporable car (even if it was not a Buick Centruy) his agency could work with me to pay for it if it goes outside there value of my Buick (all this with in reason and similarity to my Buick). When I presented them with my '93 Grand Am that I was dealing on, this agency was of NO help in additional compensation.
- They devalued my car, the CD change and keyless entry systems I installed in the Buick (they valued a $290 changer w/4 year extended warrenty at $66 and a keyless entry systm that cost over $100 at $40). They also undervalued my car by at least $1,000. The only bright side is that with a lot of complaining, they upped the value of my keyless entry and CD changer to MY cost of replacement.
- I found that there CCC report was not correct to Ohio law. In Ohio law, a car value is determined with the value of at least 2 comparable vehicles within local markets and from advertisements no older then 30 days old. I insisted I get a copy of this report. The report this "AutoPro" agency used, valued my Buick to 6 others. 4 of which were from advertisements dating in from February. This left 2. I called the one of the two that was listed as being at a dealership. I had the dealership look it up by the listed stock number. According to the data this dealer gave me, the car was NEVER available at the price listed in the report I had. It was listed for more and sold for more then what I had on the report.
My experience with this insurance agency was poor. I feel that I did not get near the service I deserved, nor do I feel I got the "quality" they advertise. So to those using this agecny, be care and be aware, if you're using them because they are the cheapest, you might just get what you pay for.
See what this car was before the wreck at '84 and '93 Buick Century page!
Click here to see my replacement '93 Grand Am.