'84 and '93 Buick Century

Like many people in high school, I too had a "beater" for my first car. I was a senior in high school when I bought my first car. It was an '84 Buick Century with a 4-banger engine, power door locks and cruise control. My father and I had to install a tape deck, I bought some cheapo 3-way 6x9 speakers for the back. Later I ran a cable from trunk to glove box and my dad used some salvage parts to install a power trunk release.
At first I thought with my dad's help we could repair the body. I was doing pretty good. By the end of summer, I had all the rust sanded down (as seen below, I used the wrong color primer, no it has nothing to do with the Cleveland Browns). I did enjoy my current exposure to auto body repair. Unfortunately that car became one of the world's biggest P.O.S.'s. By the time I got rid of it, the combination of my father, his neighbor Mike Huelsman and I (I was mostly observation to the project) put in a list of new parts - radiator, water pump, alternator, transmission to column shifter cable, HEAD GASKET, and numerous alternator belts (it flipped them right on the pulleys).

I was fortunate that shortly after my father and I decided this car was too sick to continue in my ownership, he found my Z-28. Man, that was sweet, to go from having the biggest lemon to my dream car. Well, all my friends were telling me that 5 speed stick was going to give me problems in winter. No, it was the rear wheel drive. If you looked at my Accident Page, I learned that lesson the hard way. Luckily in fall of 2000, I was able to talk my folks into letting me park the Camaro on the side of the garage and buy a winter car. At first I wanted something with around a '90 - '95, with a v6 (manual shift if I could). Something like a Berreta, Grand Am, Blazer, Skylark, Century, and so on (GM product line).
Well, my dad spotted the next vehicle I would look at (and now own). Here's the info on it:
Year - 1993 Buick Century
Engine - 3300 Series 3.3 Liter v6
Automatic Transmission
Power Door Locks, Windows
Air Conditioning
Cruise Control
Current Mileage - 111,000 (as of 2-5-2001)
My Modifications:
K&N Air Filter and BOSCH Oil Filter installed.
Stereo - SONY in-dash CD Player player and SONY 10-Disc CD Changer
Speakers - Polk 2-way 4x6's in the fronts and Kenwood 3-way 6x9's in the rears
Trunk Release (added from parts donation of my dad's '86 Buick Century)
Defiance Keyless Entry and Keyless Trunk Pop (installed by www.stevensautoglaze.com)
I now present the pictures of my '93 Buick Century (the winter beater):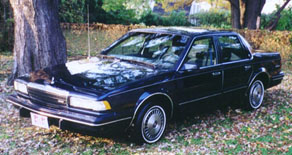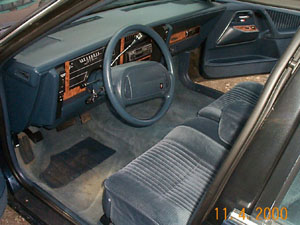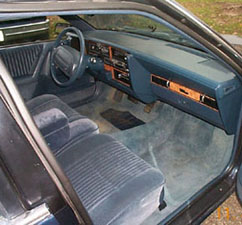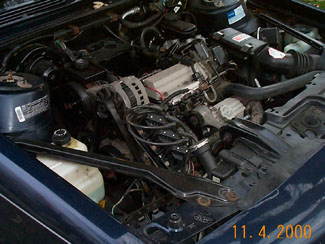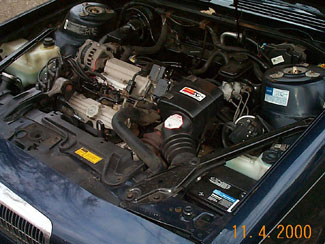 Sad to say, this excellent '93 Buick Century has been destroyed. Please visit the '93 Buick Century - Wrecked for further information and pictures.