'93 Pontiac Grand Am SE

As of February 11, 2003, this '93 Grand Am was totaled. Please visit the '93 Grand Am SE - Wrecked for further information and pictures.
After spending many nights trying to find a replacement car for my '93 Buick that was totalled, my father joined me on one of my last nights of searching. We were hopping around dealerships and ran across this '93 red Grand Am at a small local dealership. Unfortunatly, they were closed at the time so I had to come back to test drive it. Obviously, it has become mine. I was able to not just replace my Buick, but replace it with another GM car with the same exact engine (I was suprised at that and happy the K&N filter from the Buick would drop right in). On May 31st, 2001, I finally held the keys to this Grand Am.
Here's the info on it:
Year - 1993 Pontiac Grand Am SE
Engine - 3300 Series 3.3 Liter v6
Automatic Transmission
Full Instrument Cluster
Power Door Locks, Windows
Air Conditioning
Cruise Control
Current Mileage - 134,000 (as of 10-13-2002)
My Modifications:
K&N Air Filter and BOSCH Oil Filter installed.
Stereo - SONY in-dash CD player and SONY 10-Disc CD Changer
Trunk Release (added from parts donation of my dad's '86 Buick Century)
Custom Stainless Steel Exhaust (installed by www.stainlessexhaust.com)
Defiance Keyless Entry and Keyless Trunk Pop (installed by www.stevensautoglaze.com)
SunRoof (installed by www.stevensautoglaze.com) (Not Yet Pictured)
NOTE: The Sony in-dash CD player, K&N Air Filter and Trunk Release were last salvaged from the '93 Buick Century I had.
Honorable Mention: A minor mis-hap occured during the sun roof install at Steven's Auto Glaze and Security (www.stevensautoglaze.com). Unlike other dealers I've heard about making a similiar mistake, the management of Steven's were very professional, allowing me to call all the shots (no questions asked) and made the correction process very quick and simple. To me, the ease they provided seemed to good to be true (but it was). Enlight of how Steven's backed their work and me as a customer, I feel confident in recommending their services to others.
Unfortunately, I did have to put some work into this car after I got it (which helped ease the price down a bit). I know before I got it, the dealership had to get some transmission work done on it before I would buy it (shifted fine, but the computer threw codes thinking 2nd and 3rd gear were engaged at the same time). It also had a small hesitation in it (that was becoming very hazardous. In hopes to eliminate that and a small roughness in the idle, I replaced:
Spark Plug and Plug wires
Fuel Filter
Throttle Positioning Sensor
Cleaned Carbon out of the Throttle Body
Finally, sick of this, I turned it over to a mechanic my father recommended. After a couple of days with it, this mechanic fixed it. He just had to replace the Mass Airflow Sensor (he used one from a junkyard since he was not 100% sure it would fix the problem). Ever since then, this Grand Am has been running perfect!
I also had to replace 1 climate control knob, 3 out of 4 air vent outlets and the trim around the radio. These pieces were all some how cracked and damaged. I was fortunate to find all my needs in one day on a trip to a couple local junk yards.
And so now I present the pictures of my '93 Grand Am (my newest daily driver):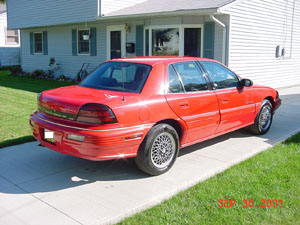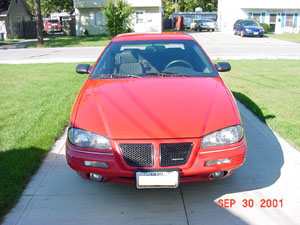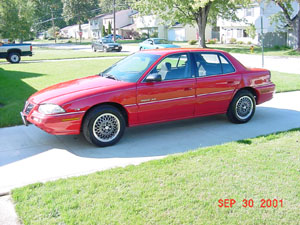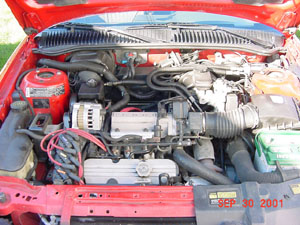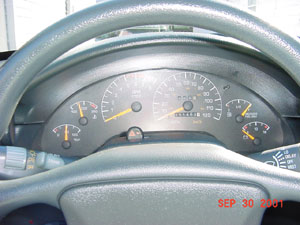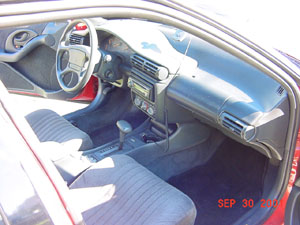 As of February 11, 2003, this '93 Grand Am was totaled. Please visit the '93 Grand Am SE - Wrecked for further information and pictures.