'94 Pontiac Grand Am SE


Bought in 2003 with 86,000 Miles.
Sold 2012 with 215,000 Miles (still running)!

See below the images for links to my Projects and History of this Grand Am
After my red '93 Grand Am was wrecked (click HERE to view pics and info on the wreck) I needed a replacement daily driver. I had no other ride (it was winter and the Camaro had an engine issue anyways). So after some shopping, I decided on and bought this '94 two door Grand Am in February of 2003. At time of purchase it had 86,000 miles on it.
Here's the info on it:
Year - 1993 Pontiac Grand Am SE
Engine - 3100 Series 3.1 Liter v6
Automatic Transmission
Power Door Locks, Windows
2 Door
Air Conditioning
Cruise Control
Current Mileage - 208,000 (as of 4-30-2011)
My Modifications:
Custom Painted Air Vents
K&N Air Filter and BOSCH Oil Filter installed.
L67 Coil Packs (the ones used on Supercharged 3800's)
Upgrade to full instrument cluster.
Stereo - JVC KD-G220
Note: 8/?/2006 - STOLEN - SONY in-dash CD player and SONY 10-Disc CD Changer
3-way Pioneer 4x6's in the Front and 3-way Pioneer 6x9's in the Rear
Trunk Release (added from parts donation of my dad's '86 Buick Century)
SunRoof (installed by www.stevensautoglaze.com) (Not Yet Pictured)
Custom Stainless Steel Exhaust (installed by Nelson's Car Care Dianostics - StainlessExhaust.com)
T Shifter for an Automatic (thanks to Dave Staubli)
Rear Folding Seat (once again, thanks to Dave Staubli for finding a perfect replacement)
WheelSkin leather steering wheel cover
NOTE: The Sony in-dash CD player, SONY 10-Disc CD Changer, K&N Air Filter and Trunk Release were last salvaged from my '93 Grand Am.
And so now I present pictures of my '94 Grand Am (my newest daily driver):
These pics were taken on the day I purchased this car 2/14/2003.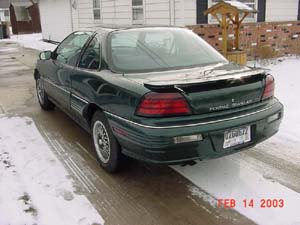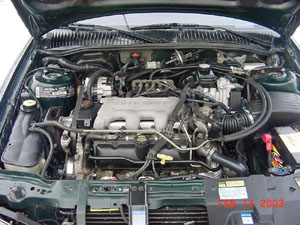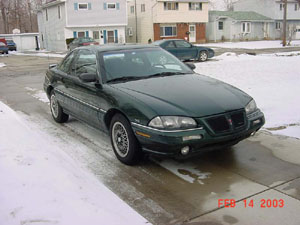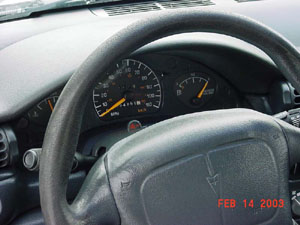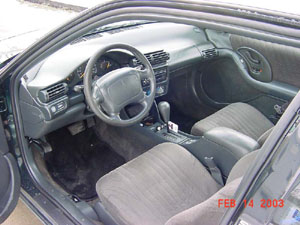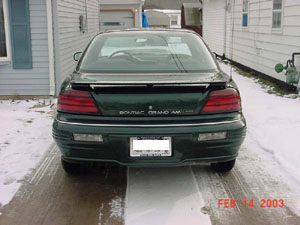 Projects and History Pages



3/31/2003 - Custom Painted Air Vents
9/25/04 - Replaced Intake Gaskets - Typical 3100 Repair (sorry no pics)
2/8/2005 - Accident
4/?/2005 - Installed a HeliCoil with head in place to fix Striped Spark Plug hole (sorry no pics)
6/13/2006 - Install Full Instrument Cluster with Aluminum Gauge cover installed
8/12/2006 - Replaced stolen SONY stereo with JVC KD-G220 MP3 unit
3/29/2008 - Fuel Pump Died - Swapped Pump and Tank from my sister's decommisioned Grand Am
9/13/2009 - 10/22/2009 - Replaced Head Gaskets
11/27/2009 - Right Control Arm Broke - Damaged Fender and Half Shaft!