Major-Restore: Replacement Floor Pans

Page 1
OK, here is a story that no car enthusiast wants to go through. Rotting floor pans (some of you readers I know don't have to worry about this, must be nice to stay in climates where winter is a myth). I happened to be cursed with one of the few 3rd gens that needed this work. It was noticed a year earlier before we did this project (I was standing in the back working with the headboard and noted that it lacked that good solid feeling on my feet). So here it is, late in June of 2000 and I had some parts delivered to my dad's place (some nice new floor pans, rubber underlay and carpet from www.classicindustries.com).
In advance, I owe a special thanks to my father, Paul Morris and his good friend Mike Huelsman. With out their knowledge and ability to play metal shop, I don't think this would have been successful. I admit, I was no where near the major player in the labor of this project. Thanks again guys!!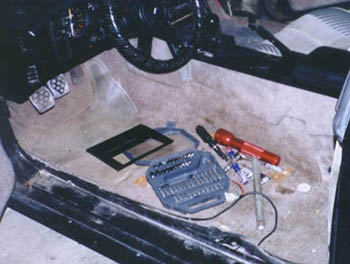 In this pic it's hard to see the carpet, but it was pretty beat. 16 years of service will do that.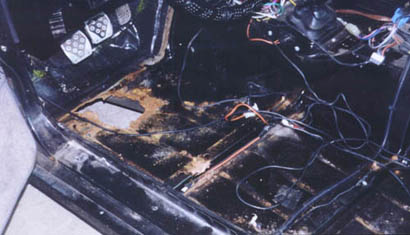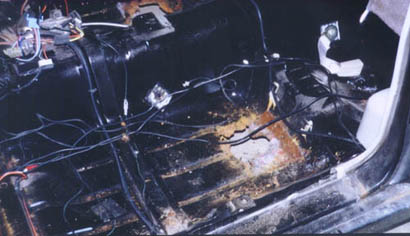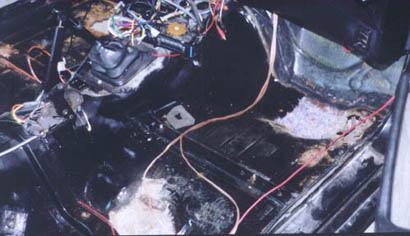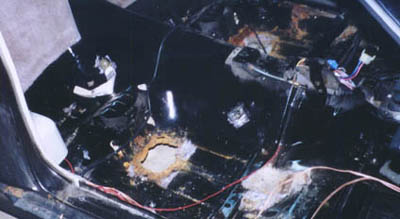 Yeah, I agree, these pics look nasty (like the hole on the driver's side under the petals). Yeah, just think, I drove with this mess to and from work (40+ minutes of freeway). These pics feature the first night of work (goal in mind for that Friday was to safely remove the old interior). The old carpet was cut in pieces for ease of removal (then rolled in a ball and tossed out of the garage). After that, we were done for the night and would start again on Saturday morning.
Click Here to continue to Page 2 of this project!
Floor Pan Project Pages:
Floor Pan Page 1
Floor Pan Page 2
Floor Pan Page 3
Floor Pan Page 4
Floor Pan Page 5 (Materials List)

Change Project