2005 F-Body Reunion at the National Corvette Museum

9/16/2005 NCM - Museum Pics
After taking in the car show, Jeff and I moved into the Museum itself. I enjoyed the displays offered inside the Museum. Out of all the Vettes I saw, I still like the second body type of the Stringrays the most. I also saw a couple of concept Corvettes that I thought were impressive!
The Vette above was the concept "2002 Tiger Shark" Vette. I really liked the look of this one the most out of the concepts (sad it was not produced). The color was very fitting along with a sweet hood and rims! Click the pic of the information plaque to read about the Tiger Shark!!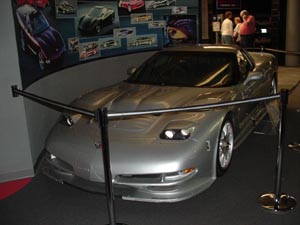 The above Vette was yet another concept that caught my attention!