Quake Fest of Nov 20th 1999!

I know I scanned these pics in a bit late, but they're here. These are just a couple of scenes from the last LAN Party I attended. This one was hosted by Ed "The AssMan" Sinclair! We were burning our CPUs on Quake 2 (DeathMatch and Capture the Flag), Age of Empires and Need for Speed 3 (we know what car I was driving, only the '88 IROC skin I downloaded). At this fest we flooded Ed's home with PCs in his living room to his garage! And plenty of food to last us from around Noon until 11:00pm!
And now, the list of the attendees:
Ed Sinclair - AssMan
Michael Diffenbacher - Mr. Diff
Will Hommel - Pir8
Joshua Moyers - Agent Orange
Tim Przela - Master T-Dogg
Pat Murray - ????
Wayne Bienia - <none>
Rick Moyers - <never lifted a mouse>
Brian Picard - Shadow
And of course, Me, Jason Morris - The Maniac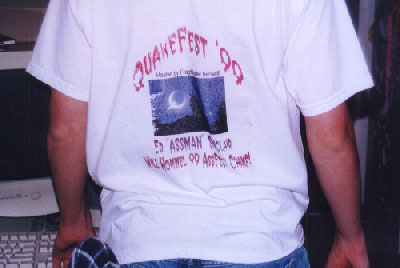 Of course Will Hommel came to this event sporting his last prize, a custom made shirt from Ed Sinclair for the one with the most frags from the last Quakefest.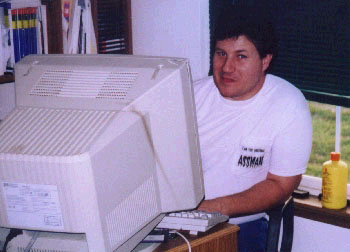 And now our gracious host, Ed Sinclair in his corner of command!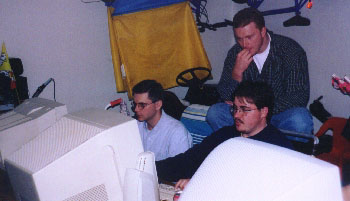 Well, looks like Wayne Bienia snagged my station (far left). Tim Przela is is shooting it up (on the right). Rick Moyers's is simply a spectator.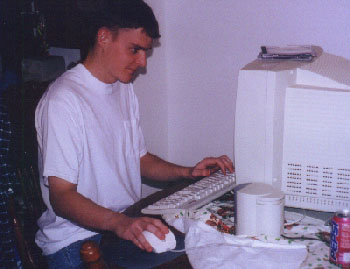 In this shot, we can see how Will Hommel earned that stylish shirt of his. Hard at work with his custom built Quake-age station!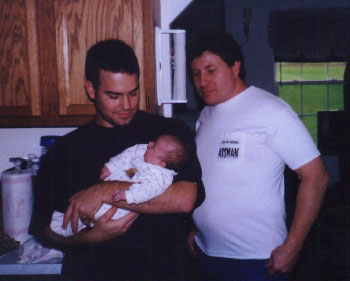 And, hey look, Quake Fest isn't just a male bonding moment, but it's a family bonding moment. Mike Diffenbacher holding his new born daughter, Devyn. better watch it Diff, Ed is just a little too close for clean air!!