F-body Road Trip to Visit Bill and Dan Rittichier - 6/2000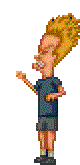 I'm sure that if you've surfed the web long enough for F-body info, you too have seen the web sites featuring Bill Rittichier's '84 and '91 Firebird and Dan Rittichier's '84 Camaro (if not, once your done here, click the links and check them out). Well, A few month's ago I spawned an idea, an idea to meet the guys behind the web sites and have a first hand look at the F-bodies they have done so much for. This want for this road trip was based on a chance I had to meet Bill a year earlier (and unfortunatly I had a final exam the day I was supposed to).
**Warning** - Here comes the precursor to the road trip - Let me back track, roughly a year ago I agreed to buy a set of F-body seats from Bill (not just any seats, but the original seats form his '84 Firebird). Now, for those who have shipped large items (such as seats), it's not easy to do. And meeting half way to do an exchange wasn't an easy concept either (Bill being in Evansvill, Indiana and I in Mentor, Ohio). But, Bill came up with a great idea, he would be visiting family in the Medina area (not to far from me). He said, if I could wait, he'd bring the seats on his way to visit. I loved the idea (no shipping was a plus). To fast forward some, I misjudged my timing (I had a final exam that day to attend and timing was not going to be optimal). With an assist of a step-brother I have in that area, I managed to have him pick up the seats for me. Every so often I felt bad about missing this chance to meet Bill and see his Firebird, I decided to make my own chance. E-mailing with Bill and Dan, me and my long good friend Brian Picard decided, we will road trip our way down to Evansville!!

OK, so, Brian and I set off on our trip at about 11:00am (after I took my last final exam for this quarter) on Saturday June 10th. We arrived at about 7:30-8:00pm our time (we didn't realize we changed time zones, it was cool to suddenly feel like we gained an hour). On our way around to their house, we saw more Ford Mustangs than I care to remember (not to mention an ugly lime green one, with T-tops). With that, I was wondering if we were in the right area (or as Brian put it "Somewhere in Massechuesetts are two guys laughing about this"). Well, anyways we arrived (my buddy insisted I not pull into the driveway until he saw the white picket fence Dan told us about, so I over shot it by a house or two). The pic above was taken the next day (but that's basically what the driveway looked like when we arrived). Dan's Camaro was not present at time of picture :(



OK, I know what you're thinking... Who in their right minds takes pictures in the dark... Well, I swear, it was not THAT dark out then these were taken. Needless to say Bill is next to his '91 Bird on the left, Dan leaning on his '84 Camaro on the right and well, that leaves me in the middle against my '84. These were the 1st pictures taken when Brian and I arrived (all of his were shooting the breeze for a couple hours before we took these). After these shots, Brian and I finally checked into our hotel room, then Bill, Jennifer (Bill's girlfriend), Dan, Brian and I then met up at a Mexican restaurant not to far from the hotel. And once again, continued talking F-bodies for God knows how long (thanks Jen for putting up with us =).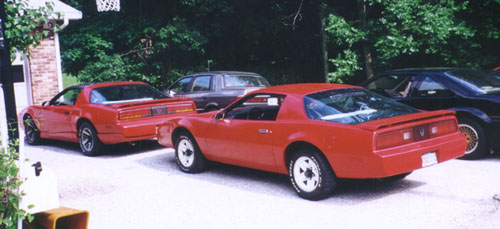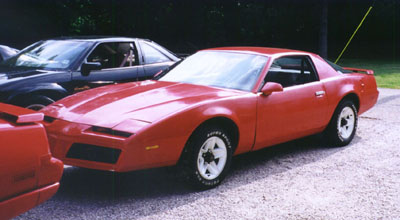 The Firebirds above are Bill's lovely two (I wish I had a couple good pics of Dan's Camaro, but I failed once again on timing). So feast your eyes on these. I thought they're both pretty sweet. Bill let me take the '84 for a spin. If you read his web site, yeah it's only a 4 *banger* engine with a stick shift tranny, but all-in-all it drives well (it had a bit more power than I thought).
I enjoyed the cook out the Rittichier family invited Brian and I to. Based on some conversations around the table, hopefully the guys might make a stop my way when they come to the northen Ohio area to visit family. If they do, Dan's Camaro might then be powered by an awesome 350ci engine from an '88 IROC!! You have to see the story and pics Bill and Dan have about this engine to come (hint, go see their web sites). All tell you what, we've got a drag strip that bad boy can be tested on...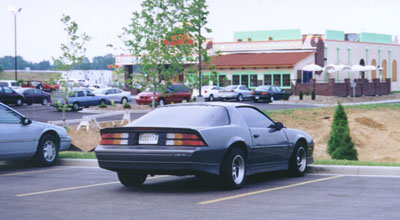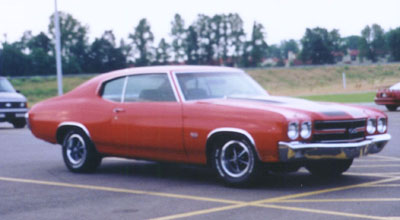 I don't know who owns the Camaro and Chevelle pictured above. I saw these sweet rides on the way out of Evansville and thought I'd grab a picture of both. In the shot with the Camaro, across the way is the restarant all of us went to the first night.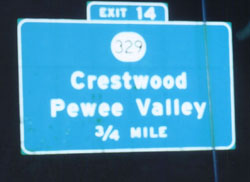 And as for the Pewee valley sign (from Kentucky), I was in the passenger seat on the ride home playing "tourist". I found the sign amusing (just remember an old kids show from Saturday morning and ask yourself "So can we find PeeWee's Playhouse there?"). We also found out there is a Santa Claus (Santa Claus, Indiana that is). And the funniest sign I saw in Kentucky, I will not share since I could not get a pic of it (you wouldn't believe me).
At the end of the long drive to Evansville, Brian and I learned a lot (which is why the Pewee Valley picture was taken at night)... I leave fellow people wishing to make a road trip this advice, don't go on a LONG road trip in the summer in a car without working Air Conditioning.... To make matters worse, having the T-tops off and no sun tan lotion doesn't help either (we realized this 5 hours into our journey, after we were well over baked). We left Sunday about late afternoon/early evening since the sun wasn't pounding on us at that time.
I must say it was certainly a pleasure to meet Bill and Dan in person and talk car with them. Who knows, maybe this journey will have a chance to be done next year (time will tell).

F-Body Body Road Trips


Started 6-19-2000.